Our Blog
All things Siesta Key. Stories, news, and event information about Sarasota, Florida's beautiful beach.
How to Spend a Full Day On the Water in Siesta Key
Posted by Best Western Siesta Key onMay 24, 2021 in Beach, Dolphin Sightings, Fishing, Relaxation, Siesta Key, Things To Do.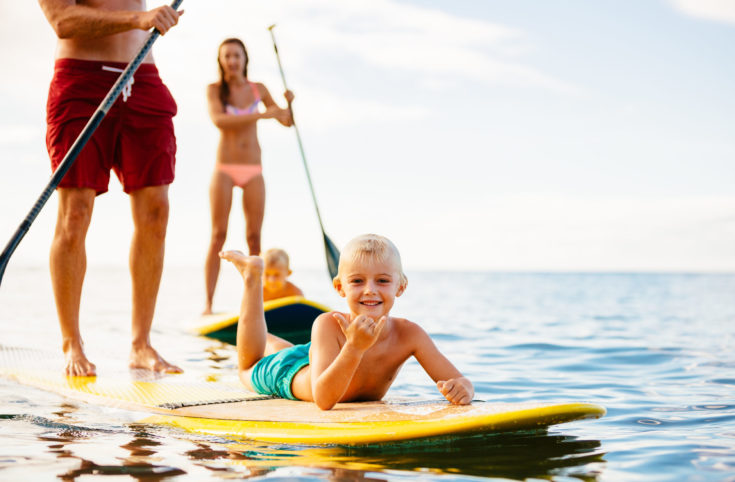 There's nothing better than taking advantage of the crystal blue water of Siesta Key as you enjoy your Florida vacation. While laying on the beach, feeling the soft quartz sand between your toes, and going for a refreshing swim is amazing any day of the week, there are a ton of ways to enjoy the Gulf and venture around the water. The local experts, here at Best Western Siesta Key, are sharing our favorite adventures and ways to spend an entire day offshore. 
Kayaking & Paddleboarding 
Renting a kayak or paddleboard is an unbeatable way to seek out adventure and marvel over Florida's wildlife. From journeying through mangrove tunnels to getting up close to dolphins, manatees, and more, you will love the natural beauty and undisrupted nature of Siesta Key and Sarasota while you float and paddle at your leisure. We recommend checking out Paraside Adventures for breathtaking guided tours and convenient equipment rentals. 
Boating
Spending a day on a boat with your family, friends, and fur babies is a great way to relax and explore under the Florida sun. Renting a boat in Siesta Key is as easy as visiting Sarasota Boat Rentals to choose from a 20' to 30' boat, watching a safety video, signing a waiver, and providing a credit card. You can even request water skis, wakeboards, kneeboards, and tubes for a lively afternoon full of fun.  Grab your fishing gear, your snorkel gear, inflatable kayak or paddleboard, or other boating gear, and set sail for a full eight-hour day. Drop anchor at a local sandbar to enjoy a refreshing swim or eat lunch in the afternoon. 
Jet Skiing
For the thrill-seekers of your group, renting a jet ski or wave runner is one of the most exciting and exhilarating water activities offered near Siesta Key. With a wide range of options for jet ski rentals and places to explore, you will want to do some research to find the best location that sparks your interests. We recommend Siesta Key Jet Ski, where riders 16 years and older can dart around the Gulf, feeling the wind in their hair for up to four hours. For further information or other recommendations, feel free to ask us during your stay here at Best Western. 
Dolphin Tours & Sunset Cruises
Offered by Siesta Key Watersports, taking a relaxing cruise around the Gulf of Mexico with your eyes open for dolphins and other fascinating marine wildlife is even better if you don't have to worry about being the captain of your own ship. After a day at the beach, a relaxing sunset cruise on the water is as heavenly as you can get. We also suggest checking out the eco-boat tours at the Mote Marine Laboratory & Aquarium, where experts from Sarasota Bay Explorers narrate as you soak in all the sights and fun facts. 
If you're looking for even more ways to enjoy your vacation and see the area, your friends here at Best Western Siesta Key are happy to point you in the right direction. There is always a new adventure with so much to see right around the corner. After a day in the salty air and hot Florida sun, find comfort and relaxation as you come home to Best Western. Find fresh towels and linens, and let yourself fall heavy on our perfectly designed mattress and pillows to reset before taking on the next funfilled day. 
This post has been tagged: